Check out the job opportunities at ITC!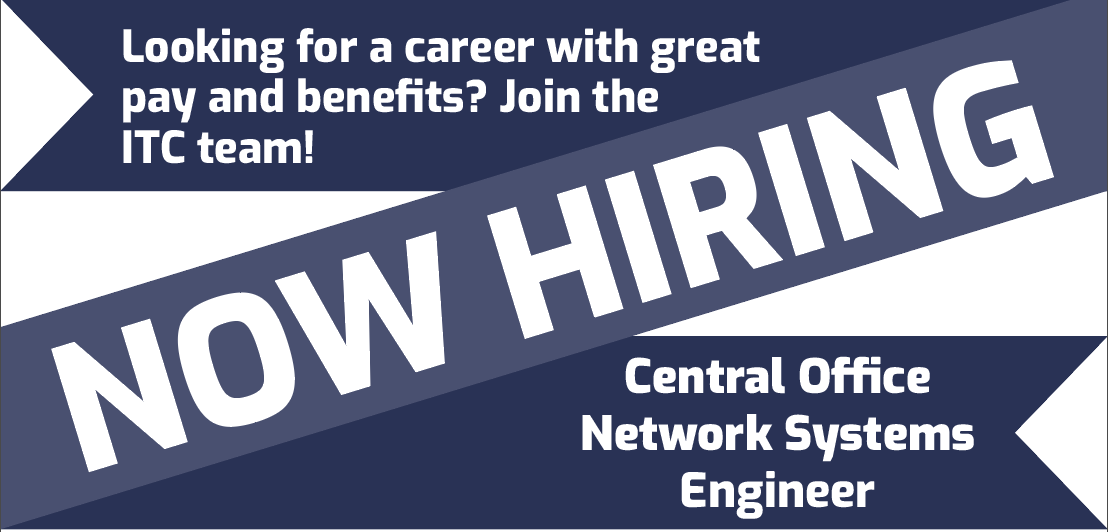 Interstate Telecommunications Cooperative, Inc. (ITC), an Equal Opportunity Employer located in Clear Lake and Brookings, SD is considering applications for a full time Central Office Network Systems Engineer based out of the Clear Lake, SD office. ITC is a progressive telecommunications company that provides voice, video, and data services over fiber-optic facilities to nearly 15,000 customers located in northeastern SD and western MN.
Qualified applicants must carry a valid driver's license and must have a minimum of a two-year degree from an accredited post-secondary institution. A degree in Telecommunications, Networking, Computer Science, Computer Information Systems, or equivalent related experience is preferred.
Some of the primary duties and qualifications will include:
Design, configuration, installation, maintenance, and support of network transport equipment.
Setup and monitoring of Network Management Systems.
Setup, configuration, and support of Hosted VOIP systems.
Maintain and repair Central Office switching, fiber electronics, broadband and power plant equipment.
Configure, install, and support ethernet special access circuits.
Ability to work independently and make sound technical decisions using the information at hand.
Great computer skills.
Ability to be on-call.
All qualified candidates should submit their cover letter and resume to: Joshua Cokens, ITC, PO Box 920, Clear Lake, SD 57226 or email to joshua.cokens@itccoop.com.
Apply Now!
Candidates seeking consideration should complete the below information. There is a section for you to upload a cover letter or resume, but feel free to upload any documentation that will assist in highlighting your credentials. All submissions will be held in strict confidence.
For questions about careers at ITC, call us at 1.800.417.8667. This institution is an equal opportunity provider and employer.