ITC's Hosted Voice service is a phone solution for businesses that is packed with great benefits and flexible options.
Our phones are a cutting-edge solution for any size business, making them the ultimate communications tool for any workplace.
Low Startup Costs
ITC Hosted Voice is managed via the cloud through our secure local data network with no costly hardware to purchase, thus eliminating the burden of making large upfront investments. The phones will be leased and managed by ITC.
Feature Packed Service
The seat price includes all major business phone features to help you manage your business efficiently.
Mobility with Soft-phone
Web Portal Access Available
Mobile App - SNAPMobile
Voice Mail
Voice Mail to Email
Caller ID
Call Waiting
Call Park, Transfer, & Pick Up
Do Not Disturb
Call Forwarding
DID Number Per Extension
Transfer to Outside Number
Distinctive Ring Tones
Basic Auto Attendant
Customizable Music on Hold
Flexible and Scalable
ITC Hosted Voice is priced per station and can be expanded as you grow your business, by any number of users or any number of locations.
Mobile Connectivity
ITC Hosted Voice allows you remote access to your business phone via the SNAPMobile app and web interface.
Reliable and Secure
ITC Hosted Voice is fully redundant and secure.
Support
ITC will take care of your Hosted Voice service. In most cases, issues can be resolved remotely.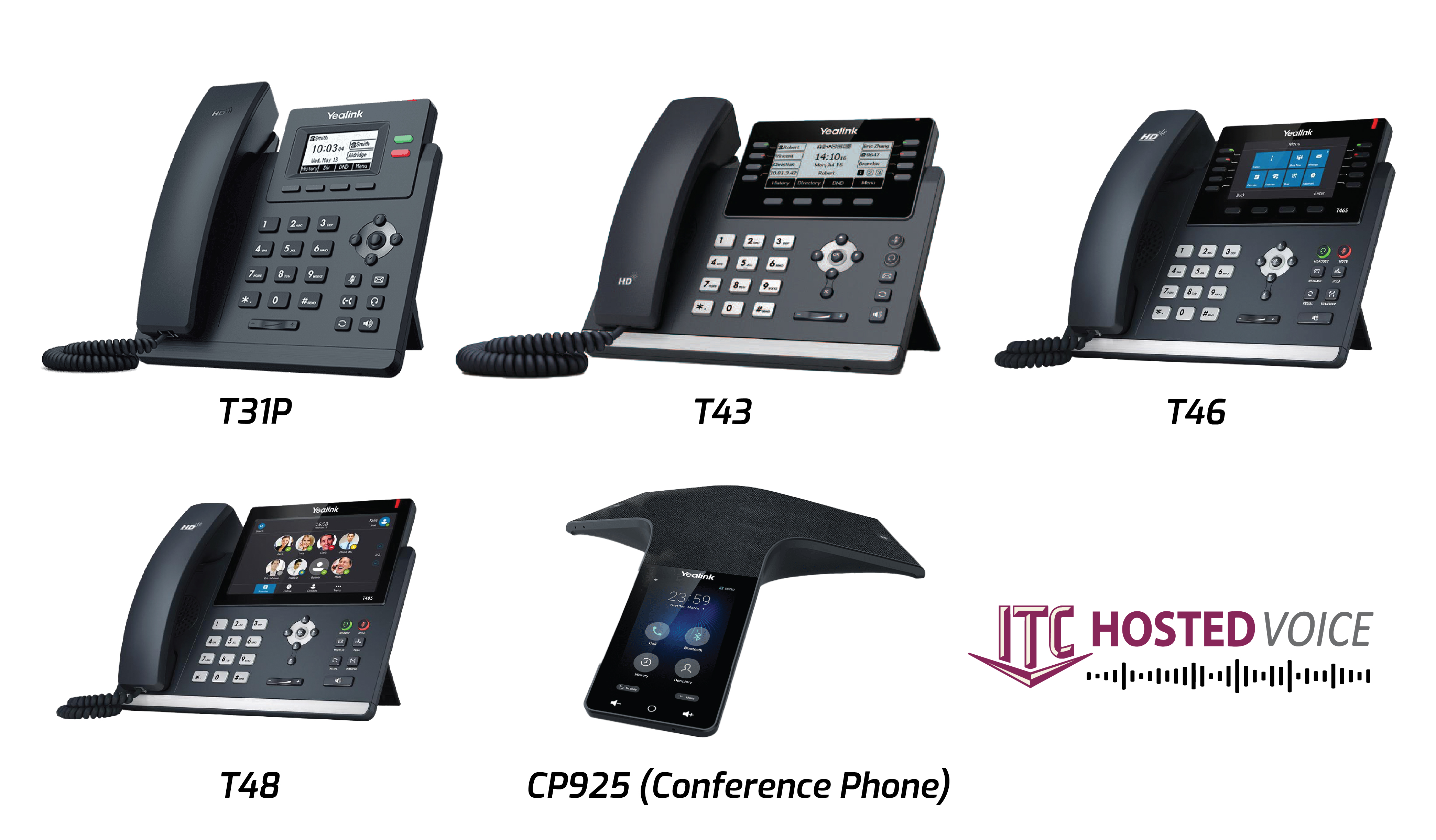 The phones available for ITC Hosted Voice are the ultimate communications tool for any workplace. The phones combine cutting-edge hardware and software with wideband technology for maximum acoustic performance. Models have pages of flexible buttons that can be programmed. The T48, T46, and T43 all have Dual-Port Gigabit Ethernet technology and the option to add accessories like a Bluetooth USB Dongle and a Wi-Fi USB Dongle.
Cat 5e wiring to all Locations
Minimum of 50Mbps/5 Mbps Internet Connection
Router or Firewall in Place
Information Phase
Once the decision has been made to move forward with ITC Hosted Voice, a technician will sit down with you to go through the configuration checklist. The checklist will assist in the set up of auto attendant, call routing, speed dial keys and other options.
Configuration Phase
Once the checklist has been completed, ITC's Network Technicians will work on programming and configuring your new system.
Installation Phase
ITC technicians will install and deploy the ITC Hosted Voice System.
Training and Support
Once your new system is installed and activated, the ITC team will train all employees on the new system. We understand that you may have questions on features or need programming changes after the install and our team will be ready to assist. Most of the changes can be done remotely.