April 1, 2022
The Spam Filter Is Changing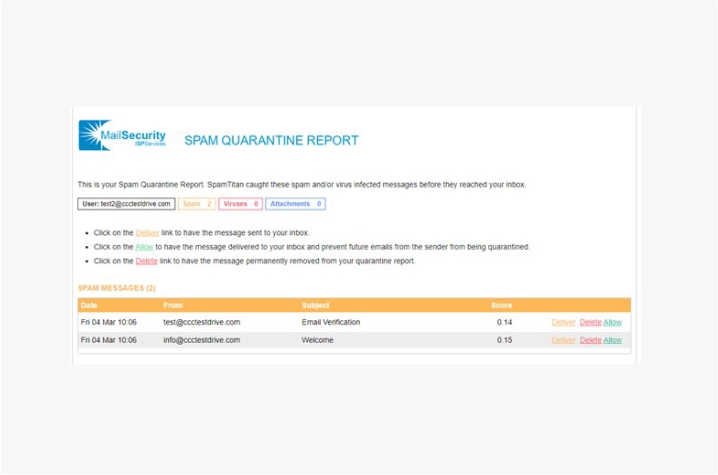 ITC's current spam filter provider has helped keep our email safe for over a decade, but now it's time for an upgrade. We will be moving to a new spam filter over the next few months for numerous reasons. While it will most certainly be a change for all of us, we anticipate that the new spam filter will catch the bad emails and let the good messages through more efficiently than the current filter.
New Features
An exciting feature is the improved mail quarantine that shows every message from the previous 30 days. This includes all messages, even those that were clean and delivered to your inbox. You can look at these messages on the filter and release them to your inbox again. This works even if you delete your copy from your inbox. It will be convenient when an email gets accidentally deleted or misplaced. This is in addition to the account backups that are already made.
The new spam filter will include several security and user features not previously available on the current filter. One new feature is that you can see every rejected message, including messages containing viruses. This means you won't have to wonder why messages weren't delivered to you. To put it simply, if the email gets delivered to ITC, then you will be able to see what happened to it without calling in for help.
Another feature is how the filter itself works. When an email comes in, the filter automatically looks at the message and compares it to several known spam measurements. It checks to see if the message contains known bad links or bad sender addresses. It even compares the message to lists that are constantly updated. Without being too technical, the spam filter takes the messages and scans them through a cloud environment, called a sandbox, to test for malicious activity. This helps cut down on malicious emails and is an excellent way to capture brand-new threats that have not been previously identified.
While we are focused on stopping bad emails from getting into the inbox, this spam solution will also help to ensure that important emails get delivered. You will also be able to work with your email to retrieve and re-categorize your messages.
Of course, it also includes the kind of features that we have all gotten accustomed to. While the new spam filter will help protect you from viruses, worms, and other nasty software, you will still be able to whitelist and blacklist sender email addresses. This means you can almost always choose to allow or block a specific address, no matter what the system decides. The exception to this is when a virus is found in the message. In that case, you will see it in the report, and the virus will not be delivered to you.
No solution is perfect, but we hope you will like the new spam filter. The old filter will be accessible on the Webmail page along with the new one until the end of May. Please remember to be careful when responding to emails and when in doubt, don't click links.
---
---