December 2, 2021
Navigating Webmail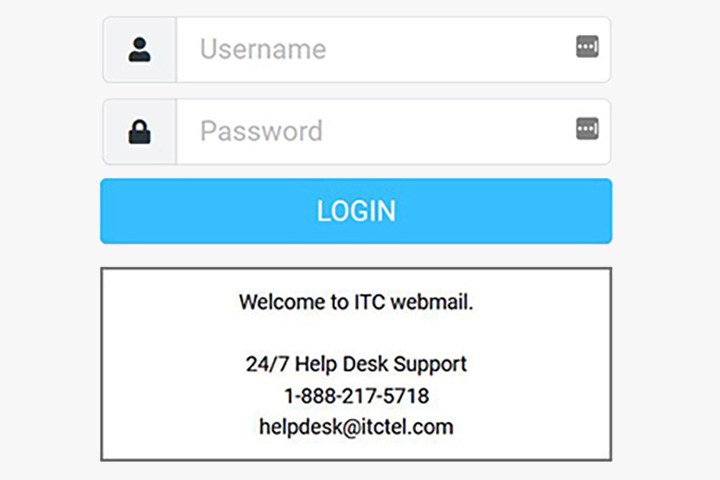 With ITC's new webmail interface, a couple of tasks are done a bit differently in the new interface compared to the old one. I thought I would take this month's article to review a few of the most asked about features of the new webmail.
The black bar on the left is where you will do most of your navigating. If we were playing a game like Life or Monopoly, the black bar is the start square. The other options can be found after you select something from the black bar. Sometimes the options on the black bar will change, depending on what you select.

To write a new email, click the Compose button. It's located under the ITC logo. This will take you to the rich text editor, where you can write an email. Attachment sizes have also been increased with the new software. You can now send multiple pictures up to 55 MB in size, which is about three times as much as you could send in the old software.
To read your email, click the Mail button. It's located right under the Compose button. If you click the Mail button, the Email Filter button will appear right under it. This is where you can check for any held SPAM emails.
The spam filter button is called "Email Filter." First, click the Mail button under the Compose button, and then click Email Filter. This will take you to the same spam filter interface that ITC has used for several years. Another way to get to the filter is by following a link to the Daily Digest, sent out to every customer. If you have turned your Daily Digest off but would like to continue receiving it, go to the Email Filter and click the Settings tab at the top. Here you can change the Delivery Frequency to Never, Daily, or Weekly.
To work with your address book, click the Contacts button. You can create, print, delete, search, import, and export contacts in your address book. You can also create groups of addresses to send to groups of people you email often.
The Calendar button takes you to the calendar feature, enabling you to create events and tasks in the webmail interface. These calendars can be shared with other applications using the iCal format.
The Settings button takes you to a section where you can control several aspects of how your mail is displayed. You can change the user interface, control how messages are displayed, and several other features.
Way at the bottom of the black bar is the Logout button. If you are using a public computer, we recommend clicking this button and closing the web page after using your email.
For a complete guide on how to use the new webmail, CLICK HERE.
---
---