September 23, 2022
ITC's eBill Mobile App
Do you like the ease of an app? ITC has just the app for you! We now have an ITC eBill mobile app to make paying your bill much easier! To get started, search "ITC eBill" in the App Store for Apple devices or Google Play for Android devices. Once you have it downloaded on your device, you will be able to log in using your existing bill pay website credentials.
With this new app, you can view and pay your ITC bill. When viewing and downloading your bill, you will receive an email stating that the bill was viewed. This is a part of our privacy rules put in place to keep your personal information safe. If you didn't recently view your bill but received an email, please change your password for the app.
The ITC eBill mobile app also provides a wide range of options for managing your ITC billing account.
DASHBOARD is the main screen showing your most recent balance due.
USAGE will show you your current long-distance usage.
INVOICES allows you to review your past invoices from ITC.
DIRECTORY gives you access to phone numbers listed in the ITC Telephone Directory.
PAYMENT HISTORY allows you to review your past payments to ITC.
Try ITC's new eBill app today and make paying your bill much easier!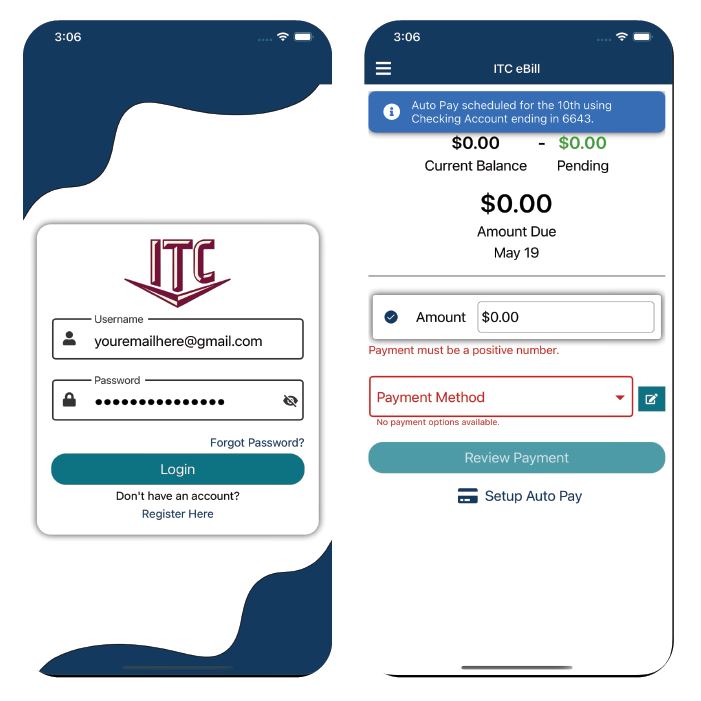 ---
---