ITC Employees, Management, and Directors are involved in the communities we serve. As proud residents of the communities where we operate, giving back is important to ITC. We not only provide services, but financial support and many volunteer hours in area organizations. ITC is a committed partner in our communities. We are building relationships that will last well into the future.
ITC has had a busy year filled with Farm Shows, Parades, and other fun events!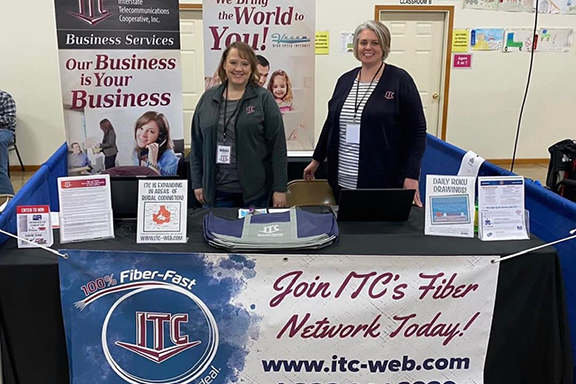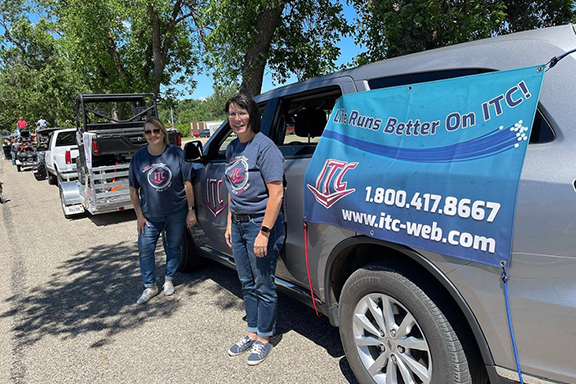 ---
Check out the following ways ITC gives back to the community:
Most of us agree that technology changes so fast, it's hard for even the most technically savvy person to keep up. For some of us, new technologies are so overwhelming we would just as soon let the kids or grandkids take care of it.
With these thoughts in mind, ITC launched "ITC University" in 2012.
Current Class List:
Internet 101
Getting to Know Your Computer
Email
Security
Facebook Basics & Advanced
Pinterest
Backing up your Computer
Digital Photos 101
iPad Basics & Advanced
Pixlr
Roku Box/Stick
Microsoft Work/Christmas Letter
Genealogy
Online Shopping
ITC Remote/DVR/VOD
Windows 10
Amazon Echo/Dot
Ask Anything!
All About Google
eBay/Craigslist
Snapchat
Streaming Video
Zoom
The class size is limited to six students. The classes are offered to you at no charge.
If you have a class idea or would like more information, contact the ITC office at 1.800.417.8667!
APRIL ITC UNIVERSITY:
The classes are limited in size, so there is time for everyone to ask questions. More class times will open up on those days if there is a lot of interest.
To sign up, please email Holly at marketing@itccoop.com or call ITC at 1.800.417.8667.
ITC Telecom and Dean E. Anderson Scholarship
Each year, ITC awards a total of twenty-four $700 scholarships to high school seniors. Scholarships are awarded to one graduating senior from each of the 23 school districts, plus one open enrollment student in the ITC service area. Scholarship applicants and their parents or guardians must maintain at least one of ITC's services (Telecommunications services, Informational services, or Cable Television services), and students must plan to attend a post-secondary institution located in either South Dakota or Minnesota. One $700 scholarship will also be awarded to a graduating senior who attends a school other than the school in the district in which he/she resides due to open enrollment. The parents or guardians must maintain at least one of ITC's services (Telecommunications services, Informational services, or Cable Television services). Application packets can be obtained from your school principal, or please click here for the application and a complete listing of terms and conditions.
SDTA Memorial Scholarship
The SDTA Memorial Scholarships will be awarded to students who have completed at least two semesters of a multi-year program at any of South Dakota's accredited technical schools or two semesters at any other accredited post-secondary higher education institution in South Dakota. Applicants that attend a post-secondary higher education institution must be majoring in a program with technical skills or a field of study that is particularly useful for work in the telecommunications industry. These majors include, but are not limited to: Telecommunications; Information Systems Technology or Management; Satellite Communications; Health Information Technology; Office Technology Specialist; Programming Specialist; Network Specialist; Engineering (Computer Science or Systems, Electrical, CAD, Software, Industrial, Communications Systems, Network Security); Technologies or Computers (Communications Systems Engineering Technologies, Computer Programming, Computer Software Specialist, Computer Systems or Software, Computer Applications, Satellite Communications, Utilities Technologies, Network Technician, Internet Apps Developer, Laser/Electro-Optics, Marketing, Network Administration, System Administrator); Technology Education; and Communication Arts (Graphic or Mass Communications, Commercial Arts, Multimedia/Web Development.) The applicant must be a member/customer or have parents that are member/customers of an SDTA member company. Persons who have previously been awarded an SDATC Memorial Scholarship are not eligible to apply. The application is available at www.sdtaonline.com.
MTA Foundation Scholarship
Foundation will award six scholarships to high school seniors graduating in 2023. Each scholarship will be a one-time amount of $2,000. There are two types of scholarships this year:
One $2,000 Jon Tollefson Technology Scholarship: To be eligible, applicants must be high school seniors with plans to major in either Telecommunications or Information Technology (IT) at a university, college, or technical college and be a Minnesota resident.
One of five $2,000 General Scholarships: To be eligible, applicants must be a high school senior with plans on attending post-secondary education at a university, college, or technical college, be a Minnesota resident, and the applicant's family must subscribe to at least one service from an MTA member company.
Click here for the online application. Interested applicants should fill out the scholarship form, then combine it with their high school transcript, essay, and class ranking.
The applications must be returned to ITC for initial screening by February 17, 2023. The scholarship notifications are made by the Foundation to the recipients. If a student in your serving area is awarded a scholarship, you will also be notified. In this event, we will provide you with a press release you may use in your local news media.
The Rural Economic Development, Inc. (REDI) Loan Fund is a non-profit corporation offering financing for business, agri-business, infrastructure, and community development projects that benefit rural areas.
The ITC REDI Fund provides business and community project financing in partnership with commercial and other economic development lenders to leverage private investment and make a difference in the region it serves.
Established in 1996 and governed by its Board of Directors, ITC REDI assists projects that promote growth and contribute to job, business and wealth creation, as well as improve the infrastructure, community facilities/services, and economic base of rural areas.
ITC REDI makes loans to for-profit businesses, not-for-profit organizations, and local governments. Projects include, but are not limited to:
Small and medium sized business and cooperatives engaged in manufacturing, retail, and service industries
Producer owned business and cooperatives that add value to agriculture
Eligibility
Applicants must:
Be legal entities, sole proprietors, cooperatives, and/or units of government
Invest a minimum of 10% equity in cash or assets of the project/business
Provide assurance of willingness and ability to repay the loan and, provide adequate collateral
Financing cannot exceed 50% of a project's total cost and must reasonably assist the project.
Additional conditions apply.
Areas of Assistance:
Business and Industry: Loans support business growth and development and contribute to employment and business ownership opportunities. The loans benefit retail, service, tourism, manufacturing, and technology sectors.
Value-Added Agriculture: To recognize agriculture's impact on the region's economic base, ITC REDI Loan Fund makes loans to support projects that add value to local agriculture production through innovation, improved services, further processing, or marketing. Loans are not made for traditional production agriculture.
Application Information
Loan applications are available from various financial institutions and ITC REDI
Applicants must submit a completed application including supporting documents outlined in the application form
Applicants must document either the willingness of other lenders to participate in a project at reasonable terms and conditions or denial of a commercial lender to fully finance a project
Projects must demonstrate business development, job retention/creation or tangible benefit to the community/region
A $100 application fee is due when the application is submitted
Applications for funding are thoroughly analyzed
A 1% loan origination/service fee will be deducted from proceeds of supported loans
Assistance in completing application forms is available from the ITC REDI Loan Fund
To request a donation, please fill out this form. Thank you!